Calder Engineering Cabins are designed and manufactured in-house to DNV GL standard 2.7-1 and EN 12079 Standards
To fully capture the potential offshore and remote renewable generation requires cabins and secure container modules to safely house equipment, controls and people. Our knowledge and understanding of all energy markets ensures we can deliver fully specified cabins to meet your needs.
We realise that no two customer's requirements are the same; therefore, we offer knowledge and flexibility to work with you to meet your specific requirements, budget and timescale. All works are carried out in house for faster turn around from order to delivery.
Our expert team can fit out our cabins to meet your requirements whether it be a Service Cabin, Control Cabin, Workshop, Welfare Cabin, Drillers Cabin, Crane Cabin, etc…the list is endless.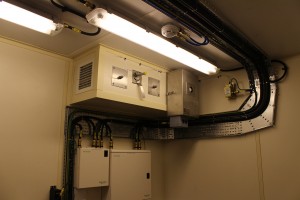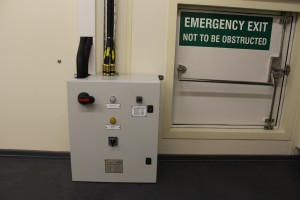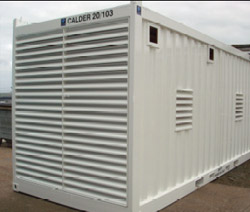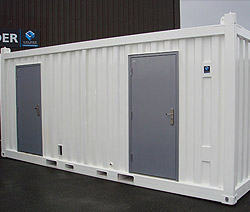 As our Cabins and Modules are built in-house we offer flexibility to build to each clients specific requirements. Thus enabling our cabins to meet every feasible challenge, for oil and gas exploration and production, matching the demands of these extreme environments.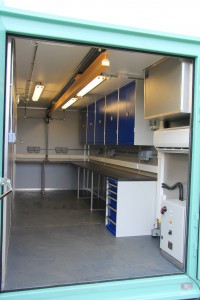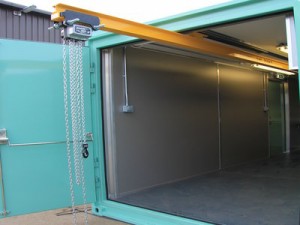 Workshops, laboratories, etc. can be fitted out with as much or as little as you require to meet your budget and requirements.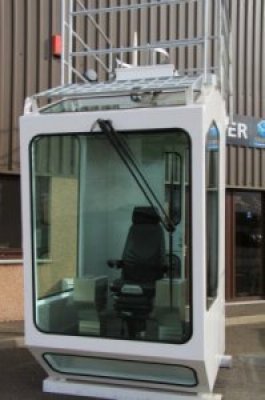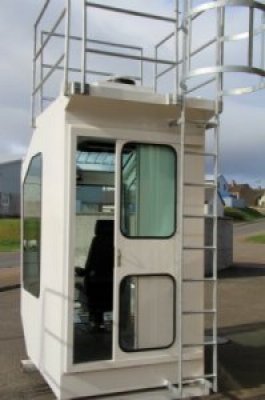 Our custom crane/operator's cabins are also designed, manufactured and fitted out in house to customer's specific requirements.
Overview:
• Designed, fabricated and fitted out in-house at our ISO 9001:2015
and ISO 14001:2015 production facility
• Fit out of our standard cabins or customer's one-off size
• Our standard sized cabin shells in stock to reduce lead times
Custom Built Cabins
If you require a cabin or module that is outwith the normal footprint size we can build you a one off cabin and fit it out to your exact requirements.
We also manufacture 316 stainless steel containers and cabins. These can be to your design or ours. Manufacture from stainless steel increases extends equipment life cycles, reduces life cycle operating costs and hence reduces environmental impact.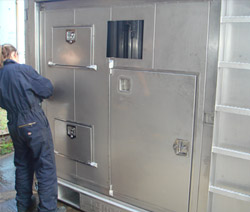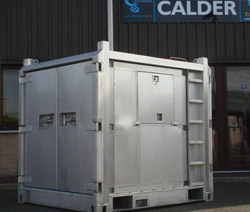 Built to Spec Cabins

• A60 Offshore Control Cabins
• Zone 2 Cabins
• Offshore Engineering Cabins
• Offshore Service Cabins
• Laboratory Cabins
• ROV Control Cabins
• Accommodation Modules
• NORSOK Cabins
• ROV Workshop Cabins
• Offshore Workshop Containers
• Acoustic Cabins
• Pressurised Cabins
• Stainless Steel Cabins
• Stainless Steel Containers
Equipment Options• HVAC• Fire & Gas Detection System
• Automatic Shutdown
• Electrical Control Panels
• Lighting
• Fire Dampers
• Emergency Escape Hatch
• A60 Personnel door
• Heavy duty work Benches
• Internal Lift Beams, "A" frames
• Purpose built storage cages
• Purpose built tool racks
• Launch & Recovery Systems
• Internal metal bulk head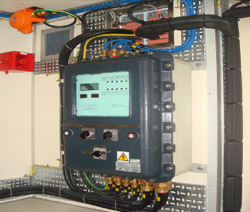 The list of fit out possibilities is endless, but here are a few examples:
• Offices
• Control cabins
• Laboratory cabins
• Welfare modules
• Accommodation modules
• ROV control rooms
• Tool containers
• Offshore Modules
• Offshore Cabins
• DNV GL Container
• DNV GL Cabin
• ROV Control Cabins
• Workshop containers
• Drillers Cabin
• A60 rated module
• A60 rated container
• Offshore Acoustic Cabin
• Offshore Control Room
• Offshore Accommodation
• Pressurised Rooms
• Fire and Gas Rated Cabin
• Hazardous Area Cabin
• Safe Area Cabin
• Offshore workshop container
• A60 cabin
Our Standard Range of Cabins
Calder Offshore Cabins are available off the shelf in 10ft, 12ft, 15ft and 20ft lengths.
External Dimensions and Weights
10ft long x 8ft wide x 9ft 1" high Gross Weight: 9782 Kg
12ft long x 8ft wide x 9ft 1" high Gross Weight: 10,090 Kg
15ft long x 8ft wide x 9ft 1" high Gross Weight: 12,273 Kg
20ft long x 8ft wide x 9ft 1"high Gross Weight: 13,500 Kg
*One off size cabins can be made to order
Brochure and Technical Specifications • Download our Offshore Container & Cabin Brochure • Pressurised Cabin A60 and Zoned Specification • Workshop Container Cabin Specification • Standard Cabin Specification
Manufacture and supply of offshore fitted containers and cabins and secure container shells for offshore Industries, oil and gas Exploration and energy markets offshore workshop container | NORSOK Cabin | A60 cabin | ROV workshop cabin | ROV control cabin | ROV drive control cabin | Zone 2 ATEX control cabin |ATEX cabin | A60 offshore cabin | Launch and Recovery Systems (LARS)